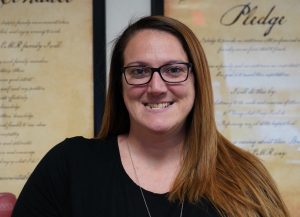 What is your position at EMR?
Baltimore Dispatching
How long have you been working for EMR?
2 months
What is your hometown?
Baltimore Highlands, MD
What are three words you would use to describe EMR?
Welcoming, supportive, rewarding

What is the most interesting job you've ever had?
Bartending at Merriweather Post Pavilion for 9 years (16 years total at Merriweather doing other jobs), I have a met a lot of great artists, people and seen some amazing shows thru the years.
What is your all-time favorite movie?
Dirty Dancing, I could watch it on repeat every day all day
If you could only eat one food for the rest of your life, what would it be?
Seafood.. snow crab legs & crabs
Where is the most interesting place you have been?
Green Bay Wisconsin, traveled with my sister & our favorite group called BmoreAroundTown for a Ravens game in 2017 probably one of the most small town places but so much to see and do along with amazing food & beer, if you never have tried cheese curds before you have to try them.
Do you have any hidden talents? If so, what?
Kid whisper (mainly getting babies to sleep)
If you were stuck on an island what three things would you bring?
Sun tan lotion, Hammock , my dog
How would you describe your "perfect day"?
A tropical beach swimming & lounging till the sun goes down with my friends and family.
What is your spirit animal?
Dolphins because I love the water.
If you could switch jobs with anyone at EMR, who would it be?
Caroline